Automatic Cashew Machine Manufacturer
We are the leading Automatic Cashew Machine manufacturer, suppliers and exporters in India. Our company have an experience of more than a decade in this field and we provide the complete solution related to this machine.
Our main concentration is delivering the best quality cashew machine at a budget friendly price. But that doesn't mean that we make any compromises with the product quality, the entire range provided by Oscar Cashew Tech is ISO 9001:2015 Certified. After passing the quality testing they are handed to the client. We also provide the installation and maintenance facility for our clients. In this past year, we have served more than hundreds of clients that are satisfied with our services.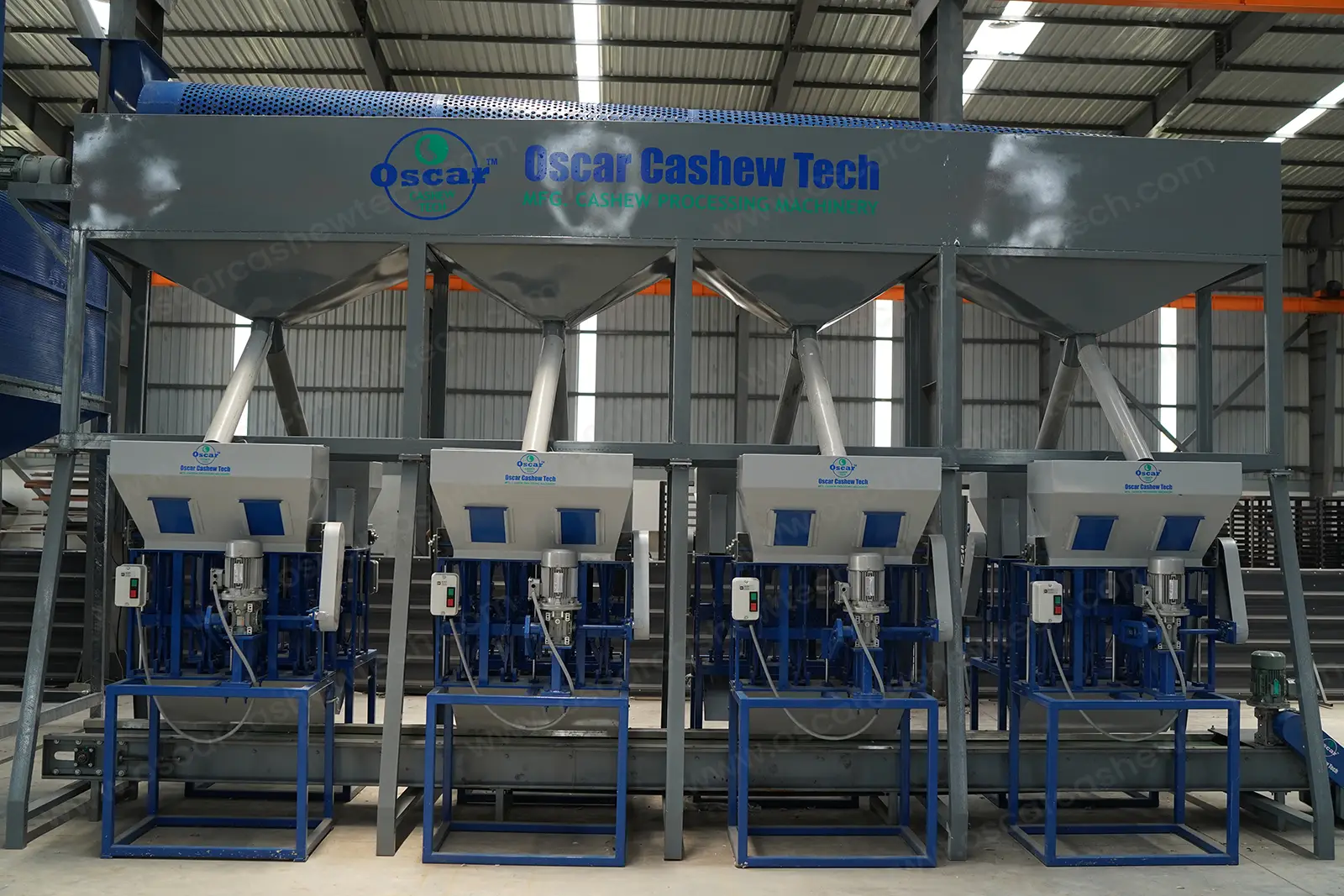 Features
The features of the Automatic Cashew Machine provided by our company are stated below
Fully automatic working
Perform different task of the cashew processing in less time
We are also providing the track option
Maximum parts of the machine is the conveyor belt
Automatic camera based colour sorter
Very easy to operate
Superior quality machine
Equipped with latest technology feature
Mounted on castor wheel
Require less maintenance
These cashew machine can be operated for longer amount of time
Consume less power
Benefits
The benefits of the using the Automatic Cashew Machine are stated below
The entire range of these machines provided by our company is ISO 9001:2015 certified
Helps to reduce the labour cost
Handle the cashew with extra cares and reduces the damages of cashew kernel
It require minimum maintenance hence helps to save your extra bucks
Helps in providing the un touch grading solution
Available in 500 kg, 1 MT – 50 MT capacities which can be chosen as per your requirements
We are also providing the facility of these automatic cashew machine customization
Fully automatic machine hence work become easier and require less man power
You can easily choose the cashew processing machine depending upon your convenience and total solution regarding this machine right from manufacturing to maintenance is provided by us. So, it becomes very easy for clients who are planning to install this machine.
Our company is the leading Automatic Cashew Machine exporter in India and we export them globally in countries like Nigeria, Senegal, Tanzania, Ghana, UAE, Morocco, Benin, etc. These machines have all the latest technology and specification and they are also manufactured as per the latest international standard which increases their demand in the market.
Have any requirement or query regarding this automatic cashew machine than call or inquire us for more details.